SERVICES/EQUIPMENT
Services
The primary goal of the Metabolomics Lab is to identify, profile, and quantify small molecules (metabolites) from various resources (plant, animal, human) with origins such as cell, cell medium, tissue, urine, blood, serum, plasma, feces, etc.   Multiple complementary analytical methods are utilized primarily with mass spectrometry.  We provide support for targeted metabolite profiling (alcohols, alkaloids, amine and polyamines, amino acids, fatty acids up to C30, lipids, nucleotides, organic acids, phenolics, phthalates, sterols, steroids/hormones, sugars and sugar phosphates, a wide range of drug compounds, and many more emerging metabolites) and untargeted metabolite profiling.  We help execute the projects from the start to the end:  sample preparation protocol development  --> instrument method development --> data acquisition on the instrument --> data analysis (including metabolomics related statistical analysis if needed). 
The Metabolomics Lab at University of Illinois has a suite of instruments (GC/MS and LC/MS) and related software package for metabolite analysis.  These mass spectrometry-based setups can achieve highly sensitive quantitative analysis, very accurate metabolite identification, and much more.  The instrument platform is well suited to perform targeted metabolite analysis (quantitatively and qualitatively) and untargeted metabolite profiling for samples up to BSL-2. 
Users (both on- and off-campus) are encouraged to discuss their projects with the center staff before using the services and instrumentation in their experimentation.
For off-campus projects, please fill Off-Campus User Form. If the project is exceeding $5,000, a Technical Testing Services Agreement is required. 
For additional information please contact Dr.Lucas Li(lucasli@illinois.edu)
 
Services:
GC/MS based metabolite profiling (targeted)
LC/MS based metabolite profiling (untargeted)
LC/MS/MS based lipid profiling 
Quantitative analysis via GC/MS (full scan or SIM)
Quantitative analysis via LC/MS/MS (MRM)
Qualitative analysis via GC/MS or LC/MS or LC/MS/MS
High resolution LC/MS (or LC/MS/MS) analysis                 
Equipment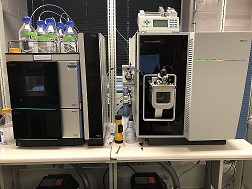 The TSQ Altis Triple Quadrupole Mass Spectrometer along with Vanquish UHPLC system, provides Ultrafast selected reaction monitoring (SRM) based quantitation with high sensitivity.
Agilent 6890N GC/5973 MS (GC/MS)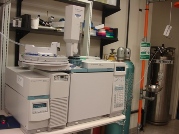 Equipped with Electron Impact ionization (EI) and Chemical Ionization (CI), and mass selective detector. Commercial Wiley and NIST libraries (2008 edition) are built in to interpret the mass spectra. The instrument can be used to quantitatively and qualitatively analyze a wide variety of volatile compounds and nonvolatile compounds (after chemical derivatization).
Agilent 7890A GC/5975C MS (GC/MS)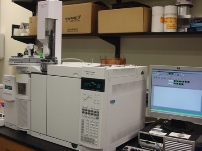 Equipped with Electron Impact ionization (EI) and Chemical Ionization (CI), in addition to the standard 5975C mass selective detector. Commercial Wiley and NIST libraries (2008 edition) are built in to interpret the mass spectra.
 
Sciex 5500 QTrap with Agilent 1200 LC (LC/MS)


A benchtop hybrid triple Quadrupole-Linear Accelerator trap mass spectrometer designed for LC/MS/MS analysis. Available ionization sources include ESI, APCI, and APPI. The scan modes include: full scan MS and selected ion scan for both Q1 and Q3, Product Ion Scan, Precursor Ion Scan, Neutral Loss Scan, Multiple Reaction Monitoring (MRM), Enhanced MS Scan, Enhanced Product Ion Scan, Enhanced Resolution Scan, and MS3 scan. Ideal for utmost quantitative analysis with the following features:
Perform multiple reaction monitoring (MRM) scans for superior quantitation using this high-sensitivity triple quadrupole system.
Discover (identify) and quantitate targeted biomarkers.
Enable high-sensitivity, full-scan MS, MS/MS, and MS3 with high selectivity from true triple quadrupole precursor ion (PI) and neutral loss (NL) scans.

 
Thermo Q-Exactive Hybrid Quadrupole-Orbitrap Mass Spectrometer (LC/MS)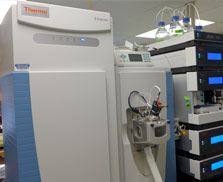 This benchtop LC-MS/MS system combines quadruple precursor ion selection with high-resolution, accurate-mass (HRAM) Orbitrap detection to help identify and confirm more compounds.  The Q Exactive Mass Spectrometer is very useful for untargeted or targeted screening with the following features:
Better than 3ppm mass accuracy in full-scan with external calibration.
Resolving power up to 140,000 FWHM eliminates isobaric interferences.
multiple dissociation techniques—in-source CID and HCD—aid in compound identification
Extended mass range of m/z 50 - 6,000.
Dedicated data analysis software SIEVE and LIPIDSEARCH for metabolite information mining including lipid profiling.
Diode array detector (DAD) is connected with Ultimate 3000 HPLC.
Microplate Reader


SpectraMax® M2 Multi-detection reader has 6- to 384-well microplate reading capability as well as a built-in absorbance (200-1000 nm), luminescence and fluorescence (excitation: 250-850 nm, emission: 360-850 nm) cuvette port
Agilent 7890B GC/5977A Extractor XL MS (GC/MS)
All work performed by the Roy J. Carver Biotechnology Center (CBC) should be acknowledged in scholarly publications, posters, and presentations. Proper recognition allows us to measure the impact of our work and supports our initiatives in obtaining sponsored funding. In addition, any CBC personnel who make a substantial intellectual or experimental contribution are deserving of further recognition as co-author.