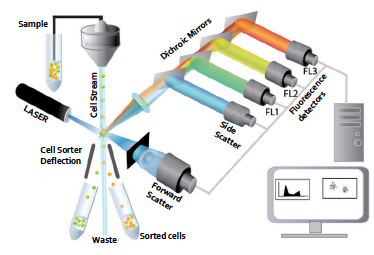 The Flow Cytometry Facility has been transitioned into a Cytometry and Microscopy to Omics (CMtO) Facility, in which we are coupling cytometry with microscopy, genomics and proteomics. This will maintain our long-term commitment to core services in cytometry, while also utilizing advanced laser scanning microscopy techniques to gain a significantly more in-depth  understanding of cell sorting and analysis, while also enabling cutting-edge spatial and single cell omics (Genomics, Proteomics, and Metabolomics). CMtO is now renovated and equipped to integrate these cytometry, microscopy, and omics capabilities by offering 10x Genomics Spatial Gene Expression and 10X Chromium Single Cell Gene Expression, as well as Proteomics on the same tissue sections and single cells. The CMtO facility recently accomplished a major upgrade of its cell sorting with the acquisition of a Thermo Fisher Bigfoot Spectral Cell Sorter. In addition, the CMtO is concurrently updating and enhancing its aging fleet of flow cytometry analyzers across campus through collaboration with MCB and other campus colleges.
This progressive CMtO microscopy to omics pipeline, which is quantitatively correlated with MicroCT and Raman instrumentation in the IGB Core Facility, is culminated using a Zeiss LSM 980 with Airyscan 2 that provides integrated confocal and widefield microscopy. This specially designed and engineered Zeiss 980 system includes Spectral-GaAsP, dedicated NIR Lasers and detectors, 2-photon capabilities, and custom configured color and black and white cameras. Other spatial genomics support equipment includes a BSL2 Cryostat, Microtome, Thermal Cyclers, and Cell Counters. This robust state-of-the art platform will fully support current (50 micron resolution mask) and future (5 micron resolution mask) 10X Visium Transcriptomics and Proteomics projects.
Cytometry and Microscopy to Omics provides the campus research community ready access to analyze and sort live cells or other particles (biological or artificial) based on their optical properties. Flow cytometry instruments measure the characteristics of cells as they flow in the suspension, in single file, through an illuminated volume. Scatter and autofluorescence can be measured, and fluorescencent dyes can be added to measure other characteristics.
For particle analysis, we provide campus researchers instruments conveniently located around campus in our satellite facilities (Burrill Hall, Morrill Hall, DCL, and RAL) as well as in the main facility (231ERML). These bench-top analyzers are available to trained users 24/7. Our sorter, located in 231ERML, is operated by facility staff and available during regular business hours Monday through Friday, from 10-4:30 p.m.
To guarantee availability, instrument time should be scheduled one week in advance. Please contact us to schedule an appointment or discuss a future project. (kjans01s@illinois.edu, 217.300.5904)